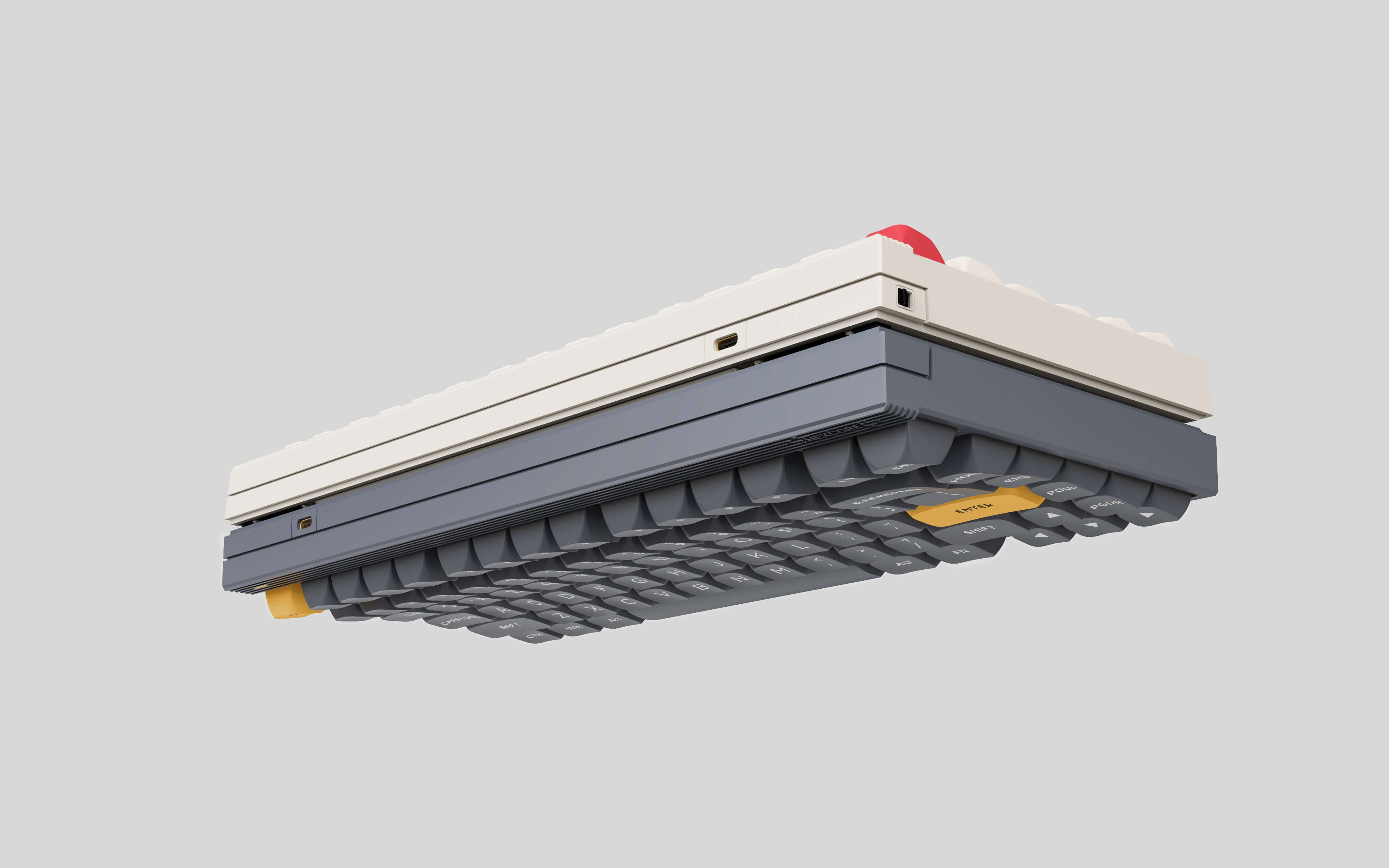 The W800 is the first triple-mode mechanical keyboard designed by HEXCORE.
Compact 80% layout, simplified the body size. Optimized 82-keys layout, retains the complete keyboard function, while the appearance is still compact and practical. The lower right corner of the keyboard have two 1.25U keys, with the "small front teeth" design , it is more convenient for players to replace the keycaps or use the arrow keys.
The W800 keyboard boasts three elegant narrow bezels that lend the front panel a refreshingly crisp aesthetic. The integration of LED indicator lights and the HEXCORE logo into the slightly broader top section is seamless, enhanced by the graceful delineation of lines, avoiding any abrupt sense of heaviness. To further enhance user convenience, we've strategically placed the toggle switch on the left side of the keyboard for effortless operation.
The combination of linear design elements on the keyboard's back exudes a sense of orderliness. The nameplate adheres to the internationally recognized ISO/IEC 7810 ID-1 standard size, facilitating gamers to personalize their own nameplate cards on e-commerce platforms (this size aligns with the dimensions of conventional bank and membership cards).
In terms of its structure, the W800 employs an integrated plate design that combines the top cover and positioning plate, flawlessly aligning with the creative concepts of our ID designers. This innovative design not only ensures the keyboard's structural stability and ease of disassembly, but also contributes to a sleeker profile and a more minimalist appearance for the W800, reflecting a heightened sense of elegance
We've tailored silicone pads, positioned within the keyboard to fill the gaps between the base and key switches, aiming to further diminish cavity noise.
The W800 features RGB backlighting, RGB underglow strip, and RGB indicator lights. Both the backlighting and underglow strip support music rhythm synchronization. We have preloaded various RGB lighting effects, and users can also customize them according to their preferences.
For more information